Affordable and thorough termite inspections. Be absolutely sure.
Termites can be serious business and can cause major damage to homes when left unchecked. We will search every part of your house to find the buggers and put your mind at ease. Many companies will take advantage of customers and simply shine a flashlight at a wall as they walk through your home. Others might not be willing to put in the effort to look in the harder to reach places, some might not even be certified to check for termites!
We offer competitively prices termite inspections for residential and commercial buildings. Our specialists will examine every bit of your house to find the termites before they have had a chance to eat away at the support beams and walls of your home.
Click here to schedule a termite inspection!

The picture to the left is an example of what a regular termite looks like. You can find these in almost any piece of wood and paint on walls.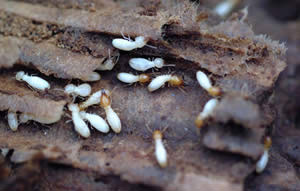 Here is another example. Notice the slight color variance, but the same overall shape and size.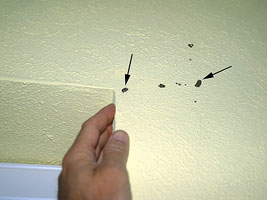 Termite exit holes will often look like the pictures on the right. These are the areas on walls where termite tubes have breached the paint. You can find these anywhere on a wall, all the way to the ceiling! These are signs that your house needs treated immediately as a little hole can mean there is a huge investation on the other side.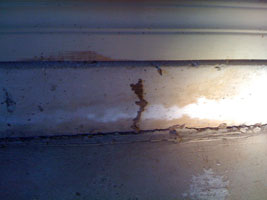 This is an actual termite tube. Termites build these anywhere they travel. If you find an exit hole in your wall, chances are you'll also find these tubes behind the paint. Very often you'll find these around the base of your garage.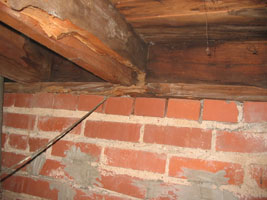 Termites love to eat the support beams under a home. Home owners may not even realize they're down there until they've eaten their way up to the home itself. Termite treatment can fix this problem and kill the bugs at their source.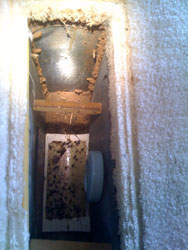 Vents that sit on the floor can be a hatchery for termites. All too often do we find these crawling their way up from the ground below. Make sure to check your vents and clean them out every so often!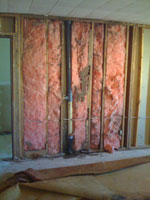 Here is an example of a termite colony that has build itself into the insulation under a wall. Without help from professional exterminators these bugs are impossible to get out of your home.
At certain times of the year termites will begin to swarm out of their nests to infect other areas. This picture is an example of what termite swarmers look like. If you open up your window blinds to take in the summer air and see these, you need to call us immediately to take care of the problem before it spreads.